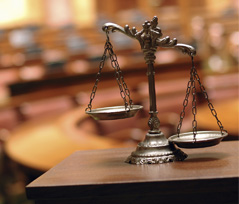 Our service portfolio also includes client representation in alternative procedures instigated for the purpose of finding the best solution to a dispute.
When they find themselves in the turmoil of a dispute, we offer our clients a helping hand, finding effective and favorable solutions. Our team's extensive experience in all forms of court procedure enables us to detect and forestall any possible problems that may emerge during litigation, thus paving the shortest route for our clients to exercise their rights.
We are proud of the broad spectrum of clients who have entrusted us with their legal issues; recognizing our commitment and expertise. The numerous and diverse cases that we are currently handling - some of which involve exceptionally high value - bear witness to that. Great attention is paid to each and every case and procedure. This attention extends to the procurement, depending on the specificities thereof, of eminent experts in order to resolving the issue at hand from all possible angles.
After the case has closed, more often than not, the client's claim has to be collected through a court ordered enforcement procedure. Our firm has an exceptionally well-developed practice in the successful collection of claims and the exercise of other clients' rights in enforcement procedures before the courts of law.